Momos have taken India by storm. It is soon turning into a staple food. The Chinese call it 'suis mais' but we know them as our favorite 'momos' which we can eat innumerable plates of. We know our basic momos, that is, the steamed and the fried and though we love them, we also do like variety.
Who doesn't like bursts of amazing flavors of their favorite food in their mouth? Here are 7 types of insanely tasty momos which one could actually, and I kid you not, kill for:
1. Kothey Momo
We all know the steamed and fried, but this one offers us the luxury of both. This momo is half steamed and half fried with a stuffing of veggies or any kind of meat made in an elongated shape. Sounds tasty!
2. Chilli Momo
This is also called C. Momo. The momos are dipped in a spicy and hot sauce and give a good spicy hit to your taste buds. This one is a must for a person who loves spicy food.
3. Jhol Momo
Jhol Momo, the name suggests something liquid. In this dish momos are dipped into a liquid made of sauce which is known as 'jhol achar'. It has a tangy and spicy taste to it. It is a definite riot of flavors.
4. Open Momo
There is some real innovation in this. This momo has four openings to it. This allows the cook to innovate in the stuffing and make the momo tastier.
5. Green Momo
This would totally remind you of our favorite "Popeye, the sailor man" as this momo has the magic of spinach. You may not have liked your greens back in your toddler days but this is momo with a covering made of flour and spinach is going to blow your mind.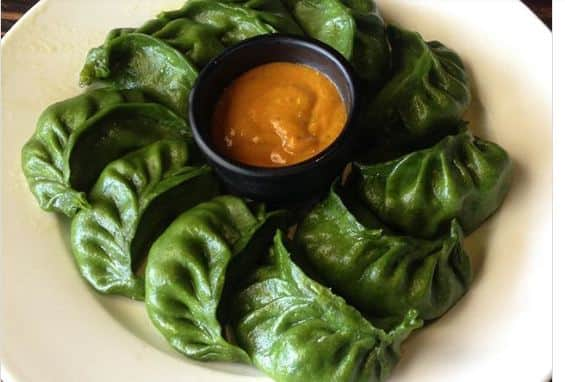 Image Source
6. Fish Momo
The other momos we have seen till now have a filling of veggies or meat of chicken or other red meat. This momo has a filling of white meat that is fish. It is much lighter than the other momos giving it a completely different taste from the usual.
7. Dhapu Momo
Well, the size matters. This momo is a bigger version of the small momos we are used to. The flour coating is thicker than normal momos but the filling takes the show. It is a must try for everyone.
If you are a momo-lover you surely shouldn't miss out these types of delicious variations.