While most people swear by their own local biryani, there are a range of variations from all around India that everyone simply must try.
1. The Lucknow biryani
This laboriously prepared dish involves cooking the meat and rice separately in heavily spice water before layering the two ingredient slowly together in a sealed container. The flavouring uses cardamom, red chillies and cumin seeds.
2. The Calcutta biryani
The Calcutta biryani uses potatoes, making it a perfect choice for bengali food lovers. The flavoring is a lot milder and sweeter than other biryanis and requires the use of nutmeg, cinnamon, maces and cardamon for the yogurt base.
3. Hyderabadi biryani
While this dish is traditionally cooked with goat, basmati rice and spices, there a number of variants. Some people choose to cut the meat into slimmer slices, coriander leaves and sliced onions.
advertisement
4. Sindhi biryani
The distinctive detail about this biryani is the use of sour yoghurt as a base. This biryani, native to Pakistan, has an incredibly rich taste owing to the threads of saffron running through the dish.
5. The Palakkad Rawther Biryani
This dish, which originates in Kerala, is traditionally served with Kaichar, a non-vegetarian gravy and Thair Chuthney. It derives its rich, red colour from tomatoes and chillies and is usually served with eggs.
6. The Thallassery Biryani
This South Indian dish is a lot sweeter and milder than most variations of biryani. The rice is flavoured with a vast array of interesting ingredients including tomatoes, onions, sultana raisins, mace, cinnamon, cashew nuts and fennel-cumin seeds.
7. The Ambur biryani
What's special about this biryani is that it uses more meat than rice. Its distinctive aroma comes from the sour brinjal curry and raita which is served with it.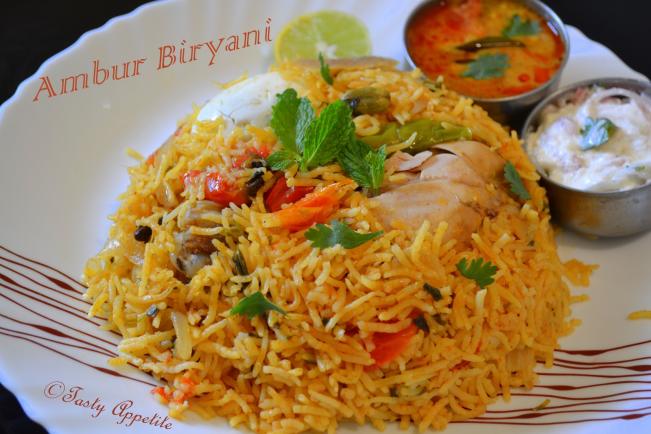 Image Source – Tasty Appetite
8. The Bombay biryani
This rich and decadent dish is prepared with fried potatoes, various Indian spices and chicken. It is rich in taste and loaded with spices and derives its distinctive taste from dried plums and fried onions.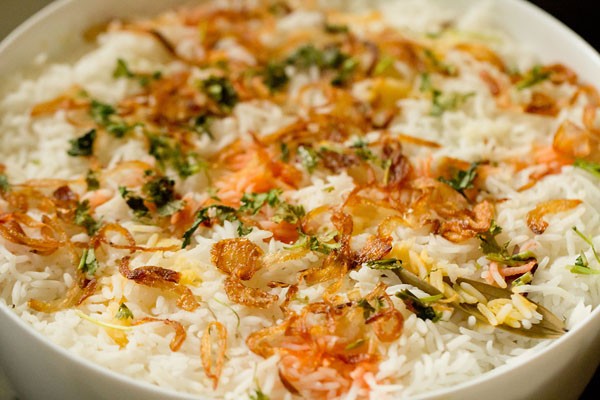 9. The Memoni biryani
This is one of the spiciest versions of biryani in India. Generally, it is prepared with lamb, potatoes, onions and yogurt and doesn't use much in the way of additional coloring.

10. The Kalyani biryani
This traditional Hyderabadi dish requires that the meat is prepared with coriander powder, red chili, ginger, turmeric, onion and tomato. The rice is added to the thick curry after the meat is prepared.