A trip to Hyderabad is incomplete without a royal Hyderabadi meal and no meal is complete without a tinge of sweet dish. Here's a list of 10 famous Hyderabadi sweet dishes that would soothe your taste buds instantly!
1. Sheer Khurma
One of the most popular sweet dishes of Hyderabad, Sheer Khurma is a relishing sweet that's usually made by Muslims on the festival of Ramadan. It is made up of almonds, custard, cashews, saffron, pistas and milk.
2. Badaam Ki Jaali
As the name suggests, it means Cage Of Almonds and is a famous sweet dish very similar to "Kaaju Katli". Extremely popular in the old city of Hyderabad originally popularized by the Ruler Of Hyderabad-"The Nizam".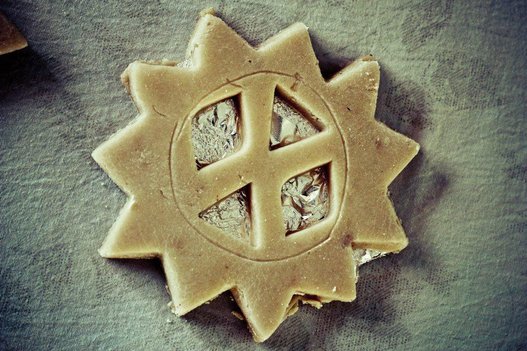 3. Khubani Ka Meetha
Khubani or Khobani is Urdu for apricot. This dish is made from dried apricots and generous amount of ghee and nuts are used. No wedding in Hyderabad is complete without Khubani Ka Meetha at the end of the dinner.

4. Double Ka Meetha
Double Ka Meetha is not only famous in Hyderabad but also throughout India. Originally started by the Nizam's and is a cuisine of the Iranians, it is made up of fried bread, sugar & dry fruits. You can grab a piece of this dessert in any famous restaurant of Hyderabad.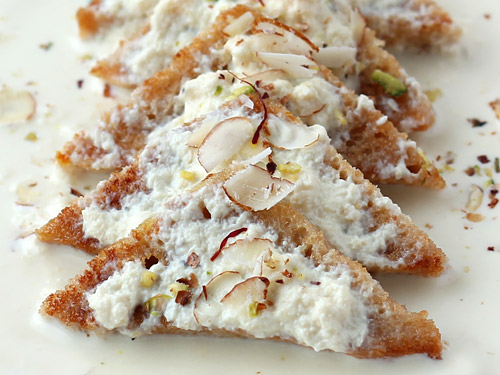 advertisement
5. Mauz Ka Meetha
Known as the "The Sweets of Banana", its a very popular dessert of Hyderabad especially in the old city. Bananas is slow cooked with milk, sugar, cardamom and saffron. Topped with nuts fried in ghee, this makes a yummy dessert.
6. Ariselu
Ariselu is made from rice flour and jaggery and is popular in festivals like Makar Sankranti.
7. Sakinalu
Another popular sweet dish of Hyderabad that is prepared during Makar Sankranti festival, Sakinalu is a deep-fried snack made of rice flour, sesame seeds.
8. Polelu (Bakshayalu)
These are like rotis with sweet stuffing inside. This traditional sweet dish of Hyderabad is very popular among the locals. They are very thin and cooked with or without oil.
9. Jauzi Halwa
Hamidi Confectioners in Mauzem Jahi market in the old city part of Hyderabad serves the famous Jauzi halwa. It is a sweet made by condensing milk to a khoya consistency. This dish is different from other milk based sweets because it has nutmeg in it. Nutmeg is the predominant flavour but it is not overpowering. If you ever visit old Hyderabad, do step into this local shop and try their halwa!

10. Phirni
This light and delicately-flavored milk pudding is delicious yet easy on the stomach after a heavy and rich Hyderabadi meal! Rose water is often sprinkled on top to give the dish a Nizam touch and also to enhance the flavor.
Featured Image – vaya.in